Age of Heroes
Hamstring
---
Hamstring
---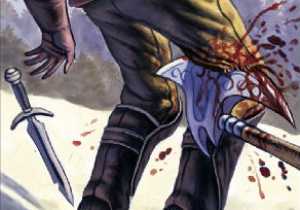 ---
If you are wielding a weapon that inflicts slashing damage, you may attempt to slash an opponent's muscles behind the knee as a full-round action. A hamstring attempt provokes an attack of opportunity. You make one (and only one) attack against your opponent, which is made at a –4 penalty. Your opponent may attempt to evade the blow with Active Defense or ward it off with Shield Defense if possible. (If he is wearing armor, this has a chance to intercept the blow as usual.) If you then deal your opponent a grievous wound, you have hamstrung him in one leg. His speed is halved and he can no longer run or charge. A character with both legs hamstrung cannot stand upright and falls prone. He can move no more than a five foot step each round and must take a move action to do so. Creatures with more than two legs, such as horses, can be hamstrung, which is in fact much easier than killing them.
This unpleasant practice is, unfortunately, historically authentic and was used as a means of preventing captives from escaping. It was also employed in myth as a means of bringing down huge, unarmored monsters such as giants. Even Zeus himself was once hamstrung and his immortal sinews stolen and hidden away. Hamstrung characters do not ordinarily recover. In a historical campaign, they never regain their full speed, even if the grievous wound is healed. In a mythic campaign, once the grievous wound is completely healed (not just turned into a normal wound) the character's speed returns to normal. Any creature that is not vulnerable to critical hits cannot be hamstrung.
---
Exception:
Characters with the Improved Hamstring feat do not provoke an attack of opportunity when making a hamstring attempt.
---